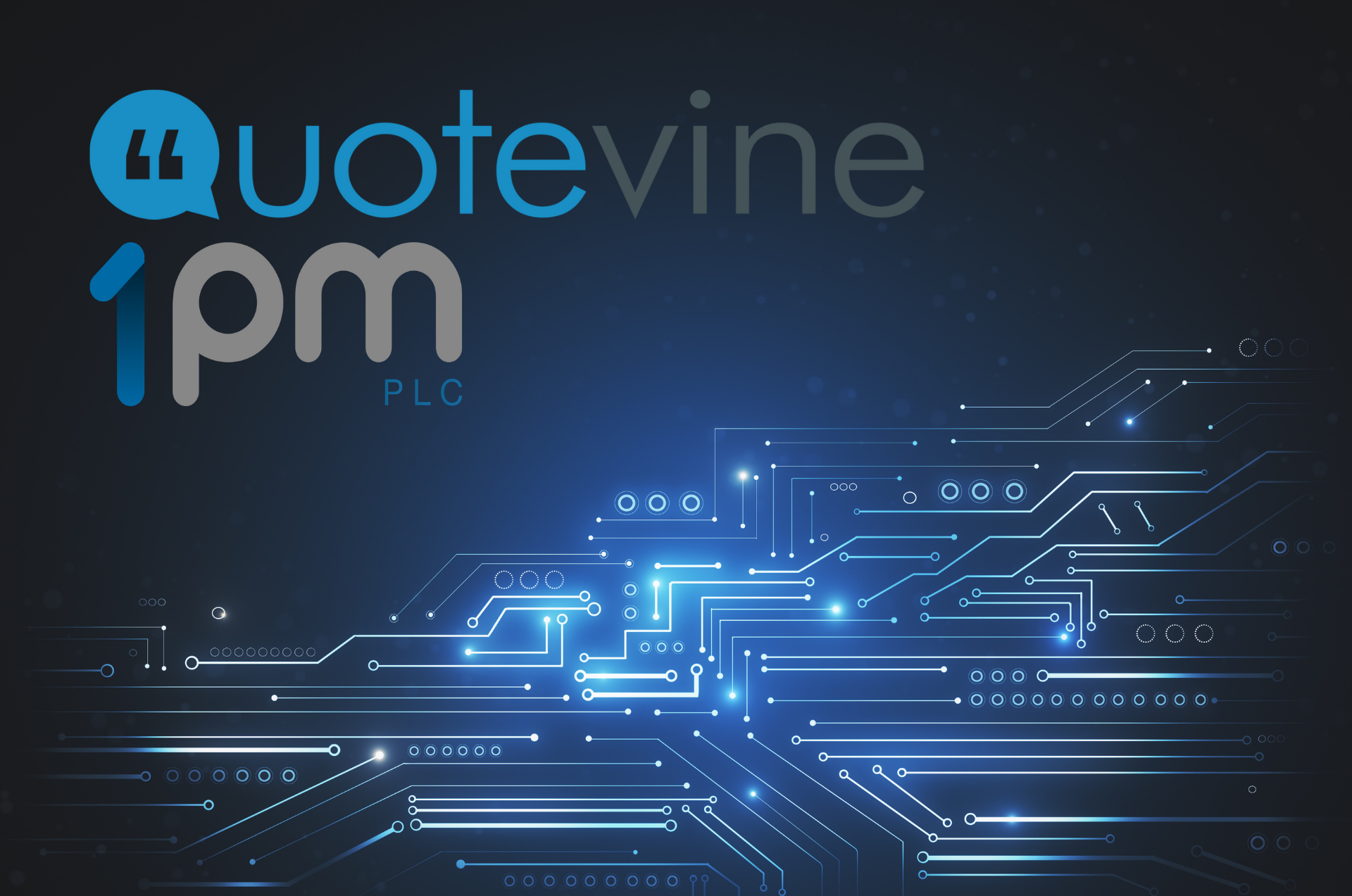 Quotevine 1pm Partnership Renewal
Quotevine and 1pm plc sign new four-year contract, continuing to offer innovation to UK SMEs
London 04/08/20. Quotevine, the forward-thinking solutions platform for the auto, asset and consumer finance industries, is delighted to announce its four-year renewal with the independent provider of finance facilities to the SME sector, 1pm plc. 
The new agreement replaces the existing, two-year rolling contract between the two organisations, after Quotevine met its promised deliverables during the initial term. 
Together, the two companies are focused on enabling fast and effective finance for small and medium-sized businesses. Software-as-a-service provider Quotevine does this by offering innovative, end-to-end solutions to brokers and finance companies, to ease the flow of crucial funding. 
1pm plc, one of the finance providers Quotevine partners with, offers a full range of business finance solutions to the UK market, from asset finance to vehicle finance, commercial loans and invoice finance. 1pm plc has so far helped over 20,000 UK businesses with over £120 million of funding, with the support of Quotevine. 
The relationship between the two organisations began in 2017, when 1pm plc approached Quotevine to help build a single platform to service various financial products. Due to business expansion into multiple sectors there became a need for one overarching system that could deliver multiple products and cross reference customer information across the groups product range. 
Quotevine's Philip Benké, Head of Business Development, said: "There were strong synergies between our two companies from the outset and, two years into our relationship, this renewal expresses the commitment on both sides to continuing to innovate to create market-leading solutions." 
The extended contract renewal will enable the two complementary companies to further enhance their combined capabilities and, ultimately, improve the customer experience. For example, it means 1pm plc now has access to Quotevine's Luca, a contract management solution which allows for lease and loan control from origination to in-life management and renewal. This will ensure full 'end-to-end' functionality for 1pm, as well as offering them privileged access to future technological developments as they emerge. Quotevine is a living, breathing platform which allows updates to be received instantly and automatically, and maximising opportunities. 
The new contract ensures there is continued investment in the development of 1pm's platform to incorporate various market-leading functionality. 
Ian Smith, CEO of 1pm plc, said: "We're in a fast-moving industry where now more than ever investment in technology is vital. 
Our partnership with Quotevine supports our commitment to the use of technology as well as inspiring innovation and adaptation. 
With our clients firmly at the heart of everything we do, this further four-year relationship will help us ensure we can both continue to strive to deliver a market leading service in terms of effectiveness, efficiency, and customer service. 
Our feedback will feed Quotevine's future innovations, enabling it and us to react to an ever-changing market."