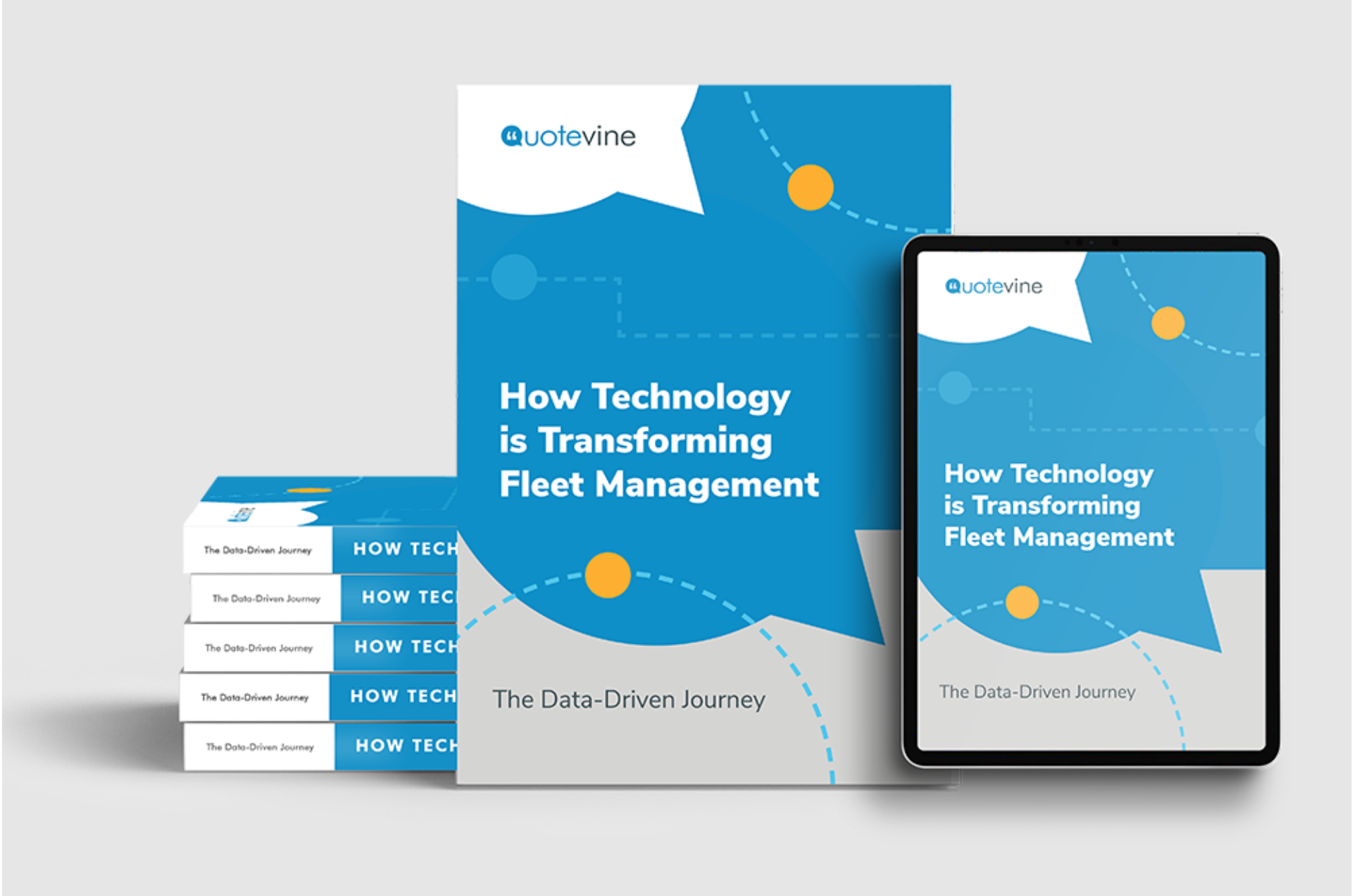 How Technology is Transforming Fleet Management
Data, adaptable tech and outstanding customer service will dictate who thrives as the fleet management industry continues to grow. full front-to-back software solution
That's the message behind the latest white paper from innovative Software as a Service (SaaS) solutions provider, Quotevine.
Predicted growth in the fleet management market to $34,629 million by 2022, from $7,755 million in 2015 (and a 24.6% rise since 2016)1
A rapid shift sparked by the demands of modern customers, from vehicle ownership to mobility-as-a-service (MaaS)
The rise of sophisticated data and fleet management software to control everything from efficiency to maintenance and driver behaviour
The increasing prevalence of electric vehicles
Rapid shifts towards a home and remote-working culture, post-COVID-19
The need for increased environmental stewardship in the way fleets are managed and driven
Emerging legislation governing everything from vehicle risk management to sustainability.
These are just some of the dramatic changes sweeping the fleet management industry.
How Technology is Transforming Fleet Management, the new white paper from Quotevine, acknowledges that the sector is on the brink of an unprecedented growth opportunity. They consider the trends that are driving growth in the industry, such as the move towards Mobility as a Service (MaaS), enhanced data integration and the rise of fleet software, are also changing the way fleets are built, managed and leveraged within a business.
"In a world of changing mobility, the corporate fleet has shown remarkable resilience… By 2021, forecasts predict that only 37% of new car registrations will come from the private market, while the corporate channel drives the other 63%2. Accordingly, the fleet management business has developed into a multi-billion-euro industry in Europe," it says, adding that "capitalising on this moment will require a new approach from fleet providers…".
"This, in turn, changes the role of the fleet manager, and the tools they need to effectively administer their vehicles. In this dynamic environment, auto finance providers will need to extend the service they provide to act as mobility partners, providing long term value for customers while effectively integrating with other solutions."
Against this backdrop, it is vital that providers adapt fast to maintain and grow their market share in this increasingly-competitive environment.
And ditching their legacy IT infrastructure in favour of new, more flexible, Cloud-based stacks and modern software solutions of the kind provided by Quotevine, will be the vital first step on that journey.
How long do we have?
Quotevine CEO, Daniel Layne, believes the future is coming sooner than we think. "We've taken a deep dive into the current fleet management landscape and, given the historic changes that are under way, we've worked hard to provide innovative, tailored solutions that suit the individual needs of our customers.
Our living, breathing platforms are designed to evolve with the times and ensure that fleet management companies have the software they need to stay nimble throughout their growth. Our systems grow with each business user and can be easily updated to ensure full compliance with new regulations and consumer changes, as and when they happen."
The industry is evolving, the question for all auto-leasing, vehicle finance and fleet management providers is: 'will you be ready?' 
The full whitepaper can be found here.